PRETREATMENT RATIONALE FOR ISSUANCE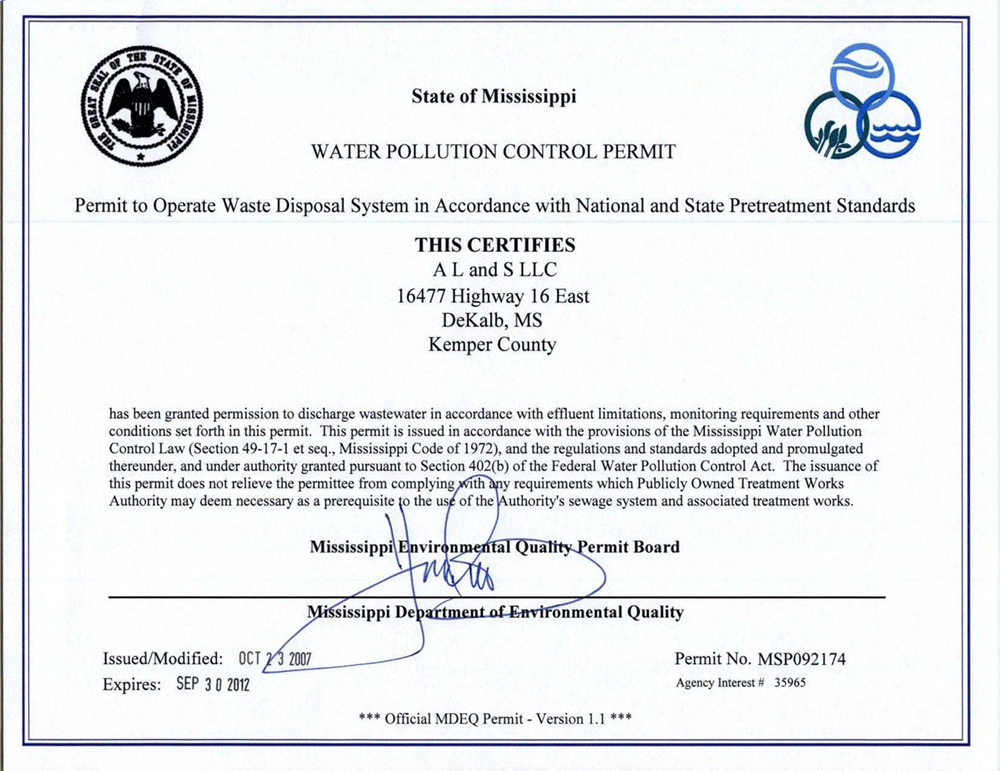 A L and S, LLC
Kemper County
DeKalb, MS
AI - 35965

MSP092174
SIC: 2834
January 2014
Permit Engineer: Audra Sandifer

FACILITY INFORMATION

Nature of Business: A L and S will import Hexachlorocyclohexane
(benzene hexachloride) as the raw material (mixed isomer feedstock)
to be upgraded to  United States Pharmacopeia 30 (USP), active 
pharmaceutical ingredient (API) standards for lindane 
(intermediate ingredient), and subsequently formulated into a 
USP 1% lindane lotion or a USP 1% lindane shampoo 
(finished product).

Process Wastewater Description:  Sanitary wastewater from sinks, shower facilities, and the 
USP water preparation room drain will be collected by a piping system that discharges to a 
buried concrete pump chamber that is sized to retain approximately one (1) week's flow of 
effluent water.  The effluent water will be pumped through dual granular activated carbon units
in series prior to discharge to the sanitary sewer for treatment at the DeKalb 
Publicly Owned Treatment Works (POTW).  Lindane drug production areas (contaminated process 
waste and cleaning waste) do not discharge to this drain.  All process and cleaning waste from 
drug production is captured and removed by a third party.

Proposed Flowrate: 375 gallons per day
Applicable Federal Guidelines:   The proposed controls for the batch processing of the benzene 
hexachloride feedstock to USP API grade lindane pharmaceutical products are designed for zero 
discharge of industrial wastewater
.  Sanitary wastewater will be pre-treated to preclude the release of contaminants from the 
sanitary wastewater stream.  Based on the zero discharge, there are no applicable federal guidelines.

RECEIVING POTW INFORMATION

POTW and Permit Number:  Dekalb POTW Number 1, MS0025291 (AI-13103)	
POTW Treatment Type: Conventional Lagoon
POTW Design Flowrate:   0.2304 MGD
POTW Receiving Stream: Snoody Creek
POTW Receiving Stream 7Q10 (Q7/10): 0

PERTINENT FLOWRATE AND LOADING DATA

POTW 12-month Average Flowrate (QPOTW): 0.152 MGD

WATER QUALITY ANALYSIS

Instream Wastewater Concentration(1)

IWC, % = QPOTW / (QPOTW + Q7/10) x 100
	  = 0.152 / (0.152 + 0) x 100
	  = 0.152/0.152 x 100
	  = 100 %

Because of this, the POTW would have to meet the chronic and acute water quality criteria.

DEVELOPMENT OF ALLOWABLE CONCENTRATIONS

Acute (lindane) - Daily Maximum -- 0.95 ug/L
Chronic (lindane) - Monthly Average - 0.08 ug/L

Based on the application and the treatment at the plant, no discharge of lindane is expected.  Therefore, we are
asking for the lindane concentration to be reported only.  If lindane is detected and becomes a concern, permit
limits will be established.

PROPOSED PERMIT LIMITATIONS

Parameter
Current Permit Limits
Proposed Permit Limits
Sampling Frequency 
Sample Type
Basis of Decision1
Max. (mg/L)
Avg. (mg/L)
Max. (mg/L)
Avg. (mg/L)

Flow**
Report
Report
Report
Report
Once per discharg
Continuous 
WQC
Lindane
Report
Report
Report
Report
Once per discharge
Grab
WQC
BOD5
Report
Report

TSS
Report
Report

pH
6.0 to 9.0 s.u
6.0 to 9.0 s.u.
Once per discharge
Grab
WQC
Temperature
90 degrees F

1 Basis of Decision: WQC = Water Quality Criteria; TBEL = Technology-Based Effluent Limitation; 
BPJ = Best Professional Judgment; etc.

** Flow reported in gallons/discharge.

BOD, TSS, and temperature reporting has been removed.  These are common pollutants in sanitary 
waste water that normally don't require monitoring.

X.	STATEMENT OF BASIS (narrative)

This pretreatment permit is being issued to insure proper operation and maintetnance of employed treatment
technologies and to monitor the efficiency of said treatment.  The facility expects there to be no lindane
discharged from the facility.  We are asking the lindane to be reported only.  There are 2 carbon filters being
used to remove any residual lindane before it enters the POTW.  There is a monitoring station between the 2 carbon
filters.  When lindane is detected, the carbon in the first filter will be regenerated to protect the POTW from
receiving any lindane.  There should be no lindane discharged into the POTW.  
Permit to Operate Waste Disposal System in Accordance with National and State Pretreatment Standards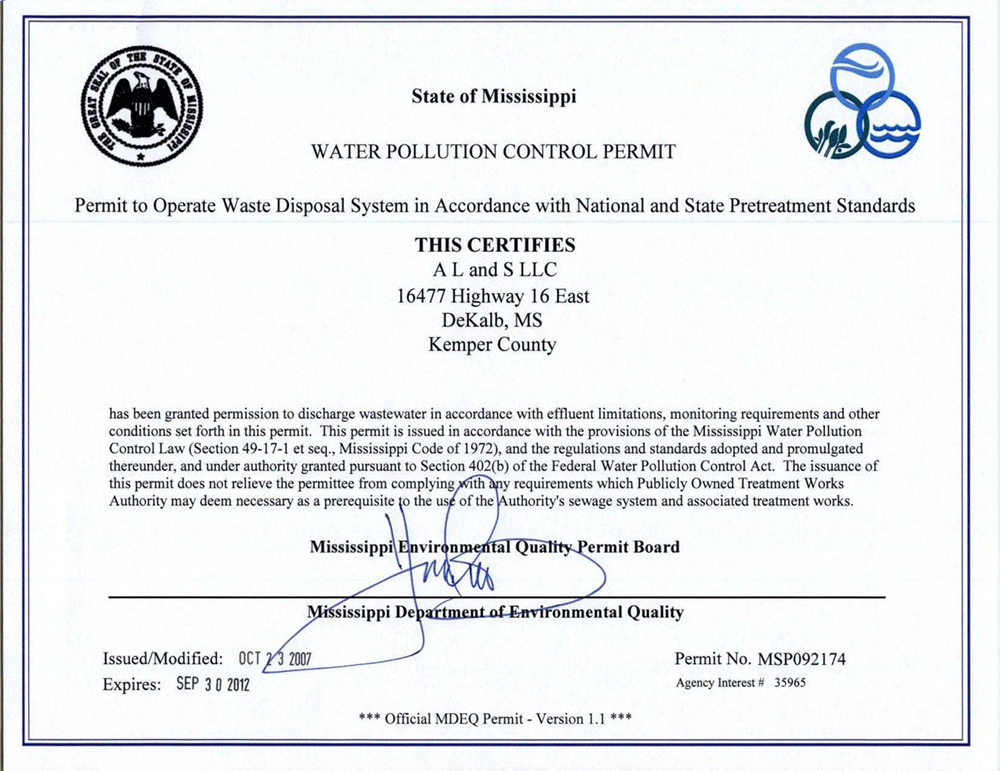 Permit Number:MSP092174
Activity ID No.: PER20070001
A L and S LLC
Subject Item Inventory
Receiving Stream Relationships:
Subject Item Relationship Receiving Stream
RPNT1 Outfall 001 (Wastewater from showers and sinks.) Discharges Into
Dekalb POTW MS0025291
Then Into Snoody Creek

Subject Item Inventory:

KEY
ACT = Activity AI = Agency Interest
AREA = Area CAFO = Concentrated Animal Feeding Operation
CONT = Control Device EQPT = Equipment
IA = Insignificant Activity MAFO = Animal Feeding Operation
RPNT = Release Point TRMT = Treatment
ID Designation Description
AI35965 Manufacturer of pharmaceutical lotion and shampoo
RPNT1 MSP092174-001 Outfall 001 (Wastewater from showers and sinks.)

Page i of i

*** Official MDEQ Permit - Version 1.1 ***
EFFLUENT LIMITATIONS AND MONITORING REQUIREMENTS
Outfall 001 (Wastewater from showers and sinks.)
RPNT0000000001: MSP092174-001
Such discharges shall be limited and monitored by the permittee as specified
below:
...
****** ****** ****** ****** ******
Report
Daily
Maximum
Lindane (all isomers)
Effluent
mg/L Twice per Month Grab Sampling Jan-Dec
****** ****** ****** ****** ******
...
Permit to Operate Waste Disposal System in Accordance with National and
State Pretreatment Standards
A L and S LLC
Facility Requirements
Permit Number:MSP092174
Activity ID No.: PER20070001
Page 1 of 19
AI35965 Manufacturer of pharmaceutical lotion and shampoo:
Limitation Requirements:

Condition
No. Parameter Condition
Samples taken in compliance with the monitoring requirements specified in
this permit shall be taken at the nearest accessible point after final
treatment but prior to actual discharge into the POTW collection system or
mixing with non-regulated waste streams. [WPC-1 Chapter One Section
IV.A(28)]
L-1

General Pretreatment Prohibitions
In addition to those pollutants limited in the "Effluent Limitations and
Monitoring Requirements" section of this permit, the
following pollutants shall not be discharged into the POTW:
(1) Pollutants which create a fire or explosion hazard in the POTW,
including but not limited to, wastestreams with a closed cup
flashpoint of less than 140 degrees Fahrenheit or 60 degrees Centigrade
using the test methods specified in 40 CFR 261.21;
(2) Pollutants which will cause corrosive structural damage to the POTW, but
in no case discharges with pH lower than 5.0,
unless the treatment works is specifically designed to accommodate such
discharges;
(3) Solid or viscous pollutants in amounts which will cause obstruction to
the flow in the POTW resulting in interference;
(4) Any pollutant, including oxygen demanding pollutants (BOD, etc.)
released in a discharge at a flow rate and/or pollutant
concentration which will cause interference with the POTW;
(5) Heat in amounts which will inhibit biological activity in the POTW
resulting in interference, but in no case heat in such
quantities that the temperature at the POTW treatment plant exceeds 40
degrees Centigrade (104 degrees Fahrenheit) unless the
approval Authority, upon request of the POTW, approves alternate temperature
limits;
(6) Petroleum oil, nonbiodegradable cutting oil, or products of mineral oil
origin in amounts that will cause interference or pass
through;
(7) Pollutants which result in the presence of toxic gases, vapors, or fumes
within the POTW in a quantity that may cause acute
worker health and safety problems;
(8) Any trucked or hauled pollutants, except at discharge points designated
by the POTW. [40 CFR 403.5(b)]
L-2

*** Official MDEQ Permit - Version 1.1 ***
...
GENERAL INFORMATION
16477 Highway 16 East
DeKalb, MS
Kemper County
Alternate/Historic Identifiers
ID Alternate/Historic Name User Group Start Date End Date
35965 A L and S, LLC Official Site Name 7/20/2007
MSP092174 A L and S LLC Water - Pretreatment 10/23/2007 9/30/2012
A L and S LLC
Basin: Tombigbee River Basin
Location Description:
? ?
Relevant Documents: Cover Letter, Form 2P
Page A-1 of A-1
*** Official MDEQ Permit - Version 1.1 ***
http://opc.deq.state.ms.us/get_doc.aspx?dt=finalp&id=434302
Permit to Operate Waste Disposal System in Accordance with National and
State Pretreatment Standards