Children play with death in toxic wasteland
First ever study of Albania's environment shocks UN staff experts
Paul Brown, environment correspondent
Guardian

Friday April 27, 2001

Children are playing in the ruins of the old factory while the family cow
grazes on the weeds growing out of a pile of rubble. The water runs yellow
in the ditch between the factory and the family's makeshift home, in what
used to be the pesticide store. It is a tell tale sign of the 20,000 tonnes
of chemicals under the thin layer of soil.

The site - the former chemical plant at Albania's biggest port, Durres - is
one of the five most contaminated "hot spots" in the country, according to
a UN Environment Programme report published yesterday. This first ever
assessment of Albania's environment has shocked even some of the experts
involved in the study.

They concluded that all 80 families living on the site are risking their
lives every day. None more so than the family of Flutorime Jani, 51, whose
two grandchildren, six and two, are playing in the factory puddles. They
live in the former lindane store, and on hot days they have to leave their
home because the vapour from the banned pesticide threatens to overwhelm
them.

Vegetable plot

In the ground where the family has a makeshift vegetable plot, the
concentrations of lindane are up to 500 times the level which would require
it to be declared hazardous waste in Britain. The milk from the cow has
lindane levels 100 times above the EU safety limit, according to the
report. The water from the well the family use for cooking is also
contaminated.

Mrs Jani shrugs when she is told that living at the site is illegal. "I
know that. I know it smells terribly, but where can I go? We have no
choice," she says. "Living here is free. Sometimes we can get casual work
in Durres in the building trade."

She says the family left their home village of Dibra, on the Macedonian
border, because they were starving. They eventually found the empty factory
and moved in. "At least we have more money to buy food than at home, where
we had nothing," she says.

She concedes that all four families living in the former lindane store
suffer unexplained illnesses, especially the children. She says they would
like to move. but they have nowhere to go.

Lindane and chromium VI, another dangerous chemical on the site, cause
liver and kidney failure and cancer.

Raw sewage

The chemicals that were once stored in Mrs Jani's new home have been moved
to another store near the sea shore, but the roof leaks and the chemicals
are dissolving in the rain. The smell scorches the lungs. Breathing in the
fumes there could be instantly fatal, but there are no homes nearby.

The pesticides from the contaminated area, along with the raw sewage from
the city, are pumped into the sea, but there is no ban on local lobsters
and crabs being sold.

The mayor of Durres, Miri Hoti, is not sympathetic to the refugees. "The
building is not licensed; they are not permitted to live there," he says.
"People build all over the banned area. Most of them are refugees; how can
we stop them? We have public land in clean areas to build houses, but no
money. What are we to do?"

It is a common theme among officials. Albania has only just begun to
recover from 50 years of a repressive communist regime, followed by 10
years of virtual anarchy, the collapse of the economy in a pyramid-selling
scandal in 1997 and a war in neighbouring Kosovo which brought half a
million refugees into the country.

Ilir Qesja, one of three people who comprise the Durres region environment
agency, says: "You can see we have had other problems, but now with
international support we can start on this one. First we had to find out
the extent of the problems, and the UN has helped us do that. Now no one
can claim in Albania they do not know it is dangerous. We must get the
people moved, the areas fenced off. Then we must find the £150,000 it would
cost to move the chemicals to a safe place. At least that would be a start."

In another hot spot at Vlore, a holiday resort in the south, where 15
tonnes of PVC were made a day until 1993, there is 1,000 times the
permitted level of mercury in the soil and on the beach. The vapour damages
the brain, kidneys and lungs.As at Durres, more than 100 refugee families
have moved on to the site and take advantage of the former factory's
services by stealing its electricity and water supply.

Dioxin rain

After a visit by journalists and a UN team yesterday, the mayor, Niko
Veiza, has promised to stop local builders stealing highly contaminated
sand from the site to build local homes and hotels, after scientists warned
him that these people would unwittingly be poisoned too.

The other three hot spots mentioned in the UN report are the capital
Tirana's main rubbish dump at Sharra, which is constantly on fire and rains
dioxins on the city; the Marize oilfield, where there are lakes of oil from
leaks; and the badly maintained oil refinery at nearby Balsh. All need
millions of pounds spent on remedial work - money which Albania has not got.

Guardian Unlimited © Guardian Newspapers Limited 2001



RIVER EAST/EAST ST. PAUL RESIDENTS STILL AT RISK
Provincial Tests Show Lindane is Present in Well Water: Maguire
Environment Critic Larry Maguire today demanded action from Conservation Minister Oscar Lathlin to, once and for all, remediate a site damaged by a toxic compost in East St. Paul, and to ensure the safety of local residents.
Maguire made the comments after learning that the Conservation department, following up on questions asked of the government in Question Period earlier this week, conducted testing of the local well water with unfavourable results.
"Those test results showed that there is, in fact, lindane present in the well water," said Maguire. "This situation is very serious. Lindane Canola is highly carcinogenic and studies have proven that it is responsible for birth defects, brain tumours, blood disorders and seizures. It is difficult to understand why Minister Lathlin and his department are moving so slow on this issue. After being aware of it for numerous months, it is time they get their act together and get this site cleaned up."
Earlier today in the Legislature, Maguire asked Minister Lathlin to tell local residents how many homes in East St. Paul and Winnipeg now have contaminated drinking water, and to explain how this was allowed to happen after repeated warnings about the need to clean up this toxic site.
"On behalf of all area residents, I have also asked Minister Lathlin to explain what steps have been taken to deal with well contamination, to properly clean up the compost site and to ensure that the health and safety of Manitobans won't be further compromised," added Maguire.
Following Maguire's questions, Minister Lathlin promised to tour the site and meet with residents as early as this afternoon.
May 11, 2000
We would like to hear your comments and suggestions. Please e-mail them to:
PCCAUCUS@LEG.GOV.MB.CA
© Copyright 2001 Progressive Conservative Caucus of Manitoba. All rights Reserved
Compost pile laced with pesticide residue
By Ian Bell
Brandon bureau
Angry homeowners near East St. Paul, Man., want a company fined for composting lindane-treated canola seed in a nearby field.
Residents said they fought for months to get the toxic compost removed from the field near their homes.
The first of those samples found levels of pesticide residue up to 10 times what is considered hazardous waste material.
March 23, 2000
Soiled by the natural truth
By coincidence, last week the EU moved against one of these conventional pesticides, lindane. Like the DDT which inspired Rachel Carson to write Silent Spring, lindane is an organochlorine, the last to survive widespread use. The EU called for lindane to be removed from agricultural and gardening use from 2002.
EarthFax Engineering Bioremediation
Success
The Utah based EarthFax Engineering Company has demonstrated full scale degradation of PCP (pentachlorophenol) and Lindane pollution located in a former wood treatment facility in North Carolina.Lindane was commonly applied as a wood preservative in the past.The remarkable success with a white-rot fungi (WRF) was monitored and controlled with the help of a remote monitoring system provided by Dynamax. Over a 24 month treatment period, the PCP concentrations decreased to 3 ppm from 2,300 ppm, after excavating, mixing with the WRF inoculum in a sawdust and cottonseed base.Similarly the Lindane preservative decreased 97% to 0.57 ppm.Both treatments achieved an industrial goal, and in the case of PCP they reached the residential risk-based concentration limit allowable.Intech One-Eighty Corporation licensed the technology, and EarthFax applied the treatment and the monitoring at full scale, cleaning up 750 tons of contaminated soil.
Environmental Media Services
Going, Going, Gone?
Lindane Moves Closer to Elimination
France Finds High Pesticide Levels in Drinking Water

PARIS, France, August 29, 2000 (ENS) - Testing of French surface and groundwaters has shown widespread contamination by pesticides, the country's environment and agriculture ministries have announced.
.....
The organochlorine insecticide lindane, which will soon be banned across the European Union for agricultural use, was frequently found as a contaminant.

On July 13, a regulatory committee of representatives from European Union (EU) member countries decided that lindane should be banned EU-wide for agricultural purposes.

Once the decision is formally approved by the European Commission, EU countries will be given six months to withdraw approval for plant protection products containing lindane, plus a further 12 months to use up stocks of products.

Use of lindane as a non-agricultural biocide will still be permitted.

The European Union ban on lindane in farming follows similar moves already taken by several individual member countries. An EU risk assessment carried out by Austria concluded that lindane should be phased out as a possible carcinogen with no safe exposure level.

The environmental group Pesticide Action Network, said the lindane decision was "fantastic news" but the group expressed disappointment that the public would "still be exposed to this dangerous chemical in the home" in products such as antkillers.
WORLD'S WORST MARINE DISASTERS
English channel, 1989. Indonesian ship lost a container of the deadly pesticide lindane in the sea.

14 July, 2000

Total ban urged on the 'cancer fear' pesticide
BY MARK TOWNSEND

THE Government was last night urged to rush through a total ban on the use of the pesticide lindane after European Union experts agreed a partial crackdown from 2002.

Lindane has been linked with breast cancer and birth defects by the International Agency for Research on Cancer.

But the partial ban, imposed by the EU's standing committee on plant health, only covers agricultural and gardening use of the pesticide.

That still allows its use in domestic products such as ant killer.
Thursday 8 March 2001
Canadians at toxic risk, report warns
Liberal cuts have prevented agencies from providing adequate protection; Millions more needed, government-appointed advisory group says

Mark Kennedy
The Ottawa Citizen

One of the studies examined how regulators keep tabs on lindane, a pesticide registered in Canada 60 years ago which is generally used by farmers to treat canola seed but is also found in lotions sold by pharmacies to rid humans of scabies and lice.

In the past decade, there has been growing evidence that potentially links lindane to cancer and adverse effects in reproduction, the liver and the immune system. It is banned from use in 28 countries, but Canada is the sixth largest global user of lindane.

In 1998, the U.S. Environmental Protection Agency made it illegal to import lindane-treated canola seed into that country. Here in Canada, regulatory action has been slower. Under a voluntary ban, farmers can continue to use lindane until July 1 of this year. However, the lice-killing lotion, available through prescription, remains on the market.

Persistent Organic Pollutants Pervade Asia

By Frederick Noronha
Bird with a crossed bill, as a result of exposure to POPs. (Photo courtesy World Wildlife Fund Canada)
All well-known POPs are chlorinated compounds. These include: pesticides such as DDT, hexachlorocyclohexanes (HCH), aldrin, dieldrin, endrin, chlordane, heptachlor, mirex and toxaphene; industrial chemicals such as polychlorinated biphenyls (PCBs); and unwanted industrial by-products dioxins and furans.

Some Indians have the dubious distinction of carrying among the highest levels of DDT and HCH in their bodies. For instance, an infant's estimated intake of lindane (gamma-HCH) from breast milk in India, based on mean levels of breast milk fat, exceeds the allowable daily intake (ADI) by 11 to 20 times.

PESTICIDES & HAZARDOUS PRODUCTS

Global

Austrian report calls for ban on pesticide lindane : The European Union should ban the pesticide lindane immediately, because of its potentially serious effects on human health and the environment, according to an as- yet unpublished report by the Austrian government. The report, released by the Pesticides Trust, a British-based environmental lobby group, said the chemical, widely used by farmers in several EU countries, may be carcinogenic, hormone disrupting and persistent in the soil. "Even though this report says clearly that lindane should be off the market, it's still being used heavily in countries including the U.K., Belgium and Italy," said David Buffin of the Pesticides Trust. (World Environment News (Reuters), Internet, 24/03/99)
UK's Easter Egg Retailers Urged to go Lindane Free
LONDON, United Kingdom, April 13, 2001 (ENS) - It is all but banned in Europe but lindane, a hormone disrupting pesticide linked to breast cancer, could be lurking in Easter eggs.
That is because farmers in cocoa producing countries still use lindane, according to the United Kingdom based Ban Lindane Campaign. The lindane tainted cocoa turns up in chocolate Easter eggs.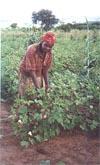 A farm worker tends organic cotton crops in Zimbabwe. With government, industry and consumer support, cocoa farmers could switch to organic production methods, say campaign groups. (Photos courtesy Pesticides Action Network UK)
Also known as gamma benzene hexachloride, lindane is a powerful insecticide used to treat everything from head lice to insects on timber. Farmers spray food crops with lindane, particularly apples, wheat and maize (corn).

In 1998, a European Union report prepared by the Austrian government called for sales of lindane to be suspended because of concerns about the chemical's effect on human health.

The report listed lindane as a carcinogenic substance with no safe exposure limit. It said lindane could damage the immune system and nervous system while causing hormone disruption, behavioral changes and birth defects.
Topical Lindane Prescriptions Confused with Oral Liquid Prescriptions
The onset of a new school year renews the plight of head lice infestation. Recently, concerns have focused on lice that are now resistant to permethrin, the main chemical ingredient in many popular over-the-counter lice products. Faced with this problem, lindane, a prescription topical antiparasitic product, may be prescribed.
http://www.usp.org/
Prescription Lice Medication May Do More Harm Than Good
Experts Urge More Combing, Less Chemicals
By Theresa Defino
WebMD Medical News
Reviewed by Dr. Tonja Wynn Hampton
Sept. 14, 2000 -- Those pesky head lice. You can spray them neon colors, bathe them in shampoo, or drown them in olive oil. And you can ask your doctor for a prescription for something, if you're feeling really desperate.
But if you're in California, chances are you won't be able to get lindane, a head and body lice medication also known by its former trade name, Kwell. Last week, the state, which often leads the nation in many environmental and health issues, banned lindane because it was fouling California's water supply. The action was also taken because of numerous reports linking lindane to seizures, death, and an increased chance of developing cancer.
The action is being celebrated by some health advocates, and many expect other states to follow California. Supporters of the ban are also pushing for the Environmental Protection Agency to impose a national ban on lindane. Consumers Union, which publishes Consumer Reports, began urging the FDA to remove the drug from the market back in 1983.
The ban "sends a message that there is a price to pay not just for the person who is using lindane; there is a large price that society pays," says Bob Truding, MD, a pediatric gastroenterologist at Beaumont Hospital in Royal Oak, Mich. Truding is also a scientific advisor to the National Pediculosis Association (NPA), the primary source of information and education about head lice for the past 10 years.
Full Story
National Pediculosis Association(R) (NPA) Announces California's Governor Gray Davis Bans Lindane September 5, 2000
NEEDHAM, Mass., Sept. 8 /PRNewswire/ -- California Governor Gray Davis (D) signed Assemblyman Alan Lowenthal's Bill AB 2318 - Lindane (Chapter number 326), which bans the sale and use of the chemical lindane for treating people for lice and scabies. (Details at http://www.lindane.org.)
California Votes to Ban Lindane for Treating Lice & Scabies August 18, 2000, Reports National Pediculosis Association
The original petition to ban lindane for this use was submitted to the FDA in 1981 by Consumers Union. Ralph Nader's Public Citizen as well as the National Pediculosis Association signed on to the original petition for an FDA ban on lindane in 1983.
California however, has monitored its use and identified direct association with use for lice and scabies in polluting Los Angeles drinking water. You can find more information on the California effort at the comprehensive lindane research website www.lindane.org.
18 August, 2000
Stores named and shamed over risky chemicals
By Lucy McDonald

LEADING high street stores have been criticised for selling products containing potentially dangerous chemicals.

Kenya hosts workshop on chemicals, pesticides
from Panafrican from Panafrican News agency, 12 June, 2000




The Convention controls the trade in hazardous chemicals such as Polychlorinated Biphenyls and Polybrominated Biphenyls, used by industry, and in harmful pesticides such as Lindane, Parathion, DDT and Aldrin, used in agriculture. At this stage, there are 29 pesticides and industrial chemicals included in the Prior Informed Consent (PIC) procedure that have either been banned or severely restricted in a number of countries. According to the PIC Procedure, these chemicals should not be exported from any PIC member country unless agreed by the importing country. The convention is implemented on a voluntary basis until its entry into force. The interim secretariat is jointly provided by the UN Environment Programme and the Food and Agriculture Organisation.
Conservation in the Twenty First Century
Lindane is an organochlorine insecticide in widespread use in the, so called, developed nations as well as in the Third World. In the UK it is approved for use as a wood preservative and in agricultural and domestic insecticides. You can still buy preparations over the counter containing Lindane. Let me quote from the June issue of Pesticide News.
" Lindane has been in use long enough for a significant body of evidence on its toxic and environmental hazards to have built up. It has caused deaths and poisonings in humans and there is authoritative recognition of its long term health effects including carcinogenicity. It is a serious environmental contaminant and as well as being directly toxic to wildlife it bioaccumulates along food chains. A significant body of scientific and anecdotal evidence links Lindane with serious health problems including aplastic anaemia, multiple congenital birth abnormalities and breast cancer. Again most Lindane alternatives are chemical.
Lindane supplies adequate for 2001
Assuming canola acreage remains at or below last year's reduced level, lindane supplies should be sufficient to treat most of this year's seed requirements. The insecticide is widely used to control flea beetle in emerging canola, but due mostly to political pressure the manufacturers have agreed to phase it out. Production ceased at the end of 1999 and the current plan is to withdraw lindane-based products from the market this summer, when pipeline supplies will be used up. Lindane is still undergoing major safety reassessments by U.S. and Canadian regulatory authorities. If these investigations confirm its safety, the product might still be revived. But this is unlikely given that North American production has already ceased. With lindane gone, canola growers will have to change to the alternatives now being introduced. These new products are more expensive than lindane-based seed treatments, but they are effective against flea beetle and have some advantages including lower human toxicity and broader-spectrum activity. The new Gustafson product Gaucho, for example, is labeled at the high rate to control early-season aphids and suppress cabbage seedpod weevil larvae and second-generation lygus bugs. 03/01/01
http://www.fbc
Head-lice checks prevent discomfort, annoyance
Kim Stephens and Jolene Talmer
Friday 18 August 2000
The Ottawa Citizen
Dr. Richard Pollack's opinion that the public is wasting its time screening for head lice in our schools is absurd ("School lice policies called 'cockamamie,' " Aug. 9).
Parents are concerned about the pediculicide shampoos used to treat head lice. Dr. Pollack fails to mention that these shampoos are pesticides with possible carcinogenic side effects. One shampoo contains lindane, a chemical that has suspected neurological effects, has not been reviewed in 30 years, and is even banned in other countries.
ECO-WATCH: UK Government votes against dangerous pesticide, edited by BARNABY ROBSON
Monday, 17 July 2000

• The European Union last week voted to ban lindane.

The decision, which took place at the EU Standing Committee on Plant Health in Brussels, was supported by the UK Government.

The ban will cover all agricultural and gardening applications of this dangerous pesticide, but doesn't prevent its continued use in domestic products such as ant killer.

Campaigners are now calling on the Government to ban lindane completely.

17 January, 2000

Victory as the Co-op outlaws lindane threat
BY JOHN INGHAM
ENVIRONMENT EDITOR

EUROPE'S biggest farmer yesterday backed The Express campaign to ban the pesticide lindane.

The £3billion Co-operative Wholesale Society revealed that it plans to eliminate the use of the chemical on its land or by its suppliers. The ban applies to all 85,000 acres farmed by the CWS, all its suppliers of fresh produce and to Co-op brand products sold in more than 2,000 stores.

CWS has already removed lindane from domestic gardening products sold in its shops. It now plans to use alternative insecticides or different land management methods which will prevent pests occurring in the first place.

It says it is acting in response to "consumer concerns" and as a precautionary measure. The move comes just days after five major retailers - Homebase, B&Q, Robert Dyas, Boots and Wilkinson - pledged to stop selling lindane.

Contaminants travel long distances to reach the Arctic

POPs are chemical substances which persist in the environment, accumulate in the food chain, and threaten adverse effects on human health and the environment.

All the POPs considered by the AMAP researchers have been found in air, snow, water and/or wildlife in the Arctic.


Air monitoring in the region has found that the levels of two POPs, lindane and chlordane, show that they must have been carried there from the places where they had been used in the mid-latitudes of north America, Europe and Asia.

Exceptionally high levels of one POP, HCH (a mixture of alpha, beta, gamma and delta hexachlorocyclohexanes) were found in Russian river water, especially from the Ob in north central Russia.

DDT is still widespread in the Arctic, although in many countries it is restricted or has been abandoned.

It is still widely used in many parts of the tropics to control mosquitoes.
news6.thdo.bbc.co.uk
Why?
Despite mounting evidence of environmental causes for the breast cancer explosion, our scientific and political establishments have avoided investigating them. . .
The answer is worth knowing because, in this case, knowledge could be power--the power to redirect the nation's research priorities toward a theory that might save thousands of women. by Michael Castleman

The effect of organochlorines in fat tissue is cumulative. "Food animals already have a toxic load accumulated in their own fat tissue," Falck continues, "and when women eat it, they get a much larger dose than they would from eating a vegetable containing some pesticide residue. The organochlorines become more concentrated as you move up the food chain."

An organochlorine link could also explain a recent drop in the breast cancer death rate in Israel. Between 1976 and 1986, breast cancer deaths (which had been continually rising for 25 years) dropped 8 percent.

Based on the commonly accepted risk factors, Israel's breast cancer death rate should, if anything, have increased. There was a strong trend toward delayed childbearing, and alcohol and fat consumption increased significantly.

Yet the death rate declined, and Jerome Westin and Elihu Richter, environmental medicine specialists at the Hebrew University-Hadassah School of Medicine in Jerusalem, offer a possible explanation: In 1978, Israel banned three organochlorine pesticides: DDT, alpha-benzene hexachloride (BHC), and gamma-benzene hexachloride (lindane). Before the ban these pesticides had been used in cowsheds. As a result, pesticide levels in Israeli milk soared up to 100 times those in the United States. Public outcry caused Israel to ban these pesticides, and within two years, DDT, BHC, and lindane levels in milk had dropped precipitously.